Date & Time : June 21, 2018 (Thursday) 19:00~22:00
Place : Grand Ballroom, 2F, Daejeon Convention Center (DCC)
Attendees : Delegates and Companions who made registration
※ Tickets will be provided when register and are required for the entry
For the memorable Banquet, there will be special performances of Daejeon Municipal Yeonjeong Korean Traditional Music Orchestra. The performances are "Samulnori"(Traditional percussion quartet), Korean traditional dance and "Sinawi"(Traditional instrumental piece of Chuncheong province of Korea). Do not miss the beautiful and magnificent Korean Traditional musical performances.
Begin with opening speech, Banquet speech and the Toast ceremony will be delivered. During banquet ceremony, upcoming event will be stated on a stage screen.
The dinner will be a 5-course meal of Western style foods. Enjoy the banquet performances with the starter and the appetizer. The main dish will be served right after the performances.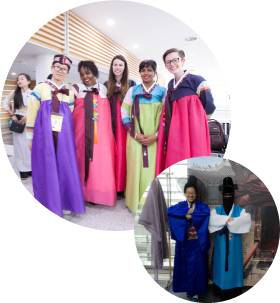 Do not miss Korean traditional costume experience!
Beautiful and Colorful traditional costume of Korea, Hanbok will be ready for your trial.
Put on the best Hanbok and take a picture!
The Hanbok trial booth will be running for two hours (17:00 ~ 19:00) in front of grand ballroom of DCC on the same day with banquet dinner. Please come and enjoy Hanbok and take pictures with the photo wall behind.